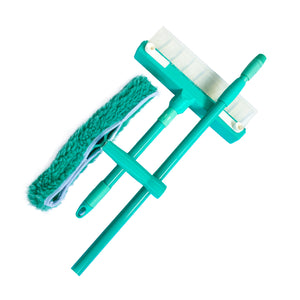 Who are we?
We are a small Australian owned business for over 30 years
Find out why we are different and the difference when you buy from us
Find out more
Window cleaning can be messy and difficult.
With the new patented AquaBlade that's all about to change
The large, high quality German made silicon blade guarantees streak free shine without scratching.
From now on water no longer runs down your arm or onto your floor, instead it rolls into the recovery tank. Tilt the Aqua Blade to drain the water.
The ultra-flexible silicon blade also allows to clean curved windows like those found on your car.
The Large Kit contains the 30cm Aqua Blade with a 30cm handle, the 30cm Pre-washer and the 88cm to 150cm Extension Pole.
See the Aqua Blade in action