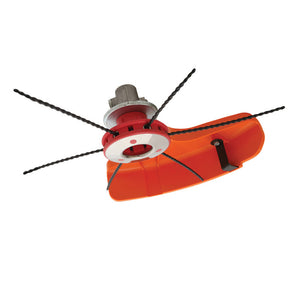 Who are we?
We are a small Australian owned business for over 30 years
Find out why we are different and the difference when you buy from us
Find out more
You 
will receive 34 pieces of 3.3mm speed blaster (worth $10) free with your purchase so that you can test out the line we sell.


Uniclik Line Trimmer Head. Easy in and easy out system.Gives you the most efficient line trimmer ever.  
See how good your existing Line Trimmer can be.
UniClik grass trimmer fits bent and straight shaft machines
Specifications:
Stainless Steel plate
Double spring/ jaw loaded
Glass fibre reinforced housing
UniClik holds 2, 3, 4 ,6 lines at a time
Accepts all line shapes from 2.7mm - 4mm
Please note: Bent or Straight fittings are included in purchase!
Watch the video of the Uniclik Line Trimmer below