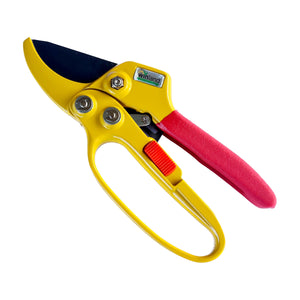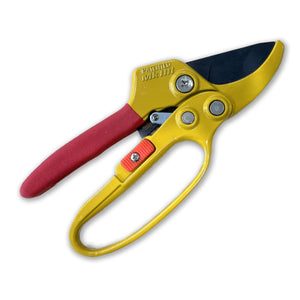 Who are we?
We are a small Australian owned business for over 30 years
Find out why we are different and the difference when you buy from us
Find out more
MK4 Ratchet Secateurs Red Grip. If you tend to leave your secateurs on the ground and you spend extra time searching for them then the red colour is for you as they are much easier to see in the garden.
MK4 Secateurs are a high-performance all purpose model. Its all metal body and powerful ratchet design allows for intensive cutting of stems and branches up to 25mm (1?"), hard or soft wood.
The blade has a PTFE coating to reduce sap build-up and transfer of disease between plants. For ease of maintenance and service, the secateurs can be fully disassembled. The easy access fittings allow for quick exchange of all components. For extended life, the weight-bearing joint is fitted with a metal bush.