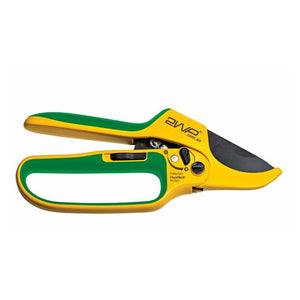 Who are we?
We are a small Australian owned business for over 30 years
Find out why we are different and the difference when you buy from us
Find out more
The original and best Ratchet Secateur - Avoid cheap imitations.
Fully serviceable, which means the last secateur you'll ever buy.
With just a simple flick of a switch, you can operate your ratchet secateurs in ratchet mode to cut branches up to 25mm thick, or single cut mode for your more delicate pruning and trimming needs.
Full metal body for long-lasting durability
Comfortable, non-slip handle
Fully replaceable and easily accessible parts mean the secateurs are extra durable and last much longer than most secateurs.
PTFE non-stick coating on the blade reduces sap build-up and reduces the risk of disease transfer between plants.
Designed for both left and right-handed users.
For extra power, two hands can be used.
Limited lifetime warranty against manufacturer defects. See warranty policy here https://2wp.com.au/guarantee